Eventuri have now finalised their Mk3 Focus RS intake with the cold air feed after lots of testing. The feed consists of an aluminium scoop and ducting to saturate the filter opening with cold air – it picks up ambient air very effectively and with the car in motion ensures that the intake does not suck in the heated engine bay air.  The standard cold air feeds are pretty useless due to the small openings it uses behind the grill – under testing with a 70mph fan directly into the grill, Eventuri got hardly any airflow coming through the stock feeds. This is one of the reasons why Ford opened the airbox up otherwise it would have been a massive restriction.
Eventuri have noted that a consequence of the open stock system is that it suffers from heat soak, however it makes the airbox good in terms of airflow. So to improve on this by merely using an open cone system becomes pointless – you need 2 elements to improve on the standard design, a smooth transition to the cross-over pipe and a good cold air feed. The standard cross-over pipe itself does not pose a restriction since it has decent bore size which tapers down and matches the stock turbo inlet. A larger cross-over pipe will only be beneficial if the turbo is also changed to a larger size for higher boost levels.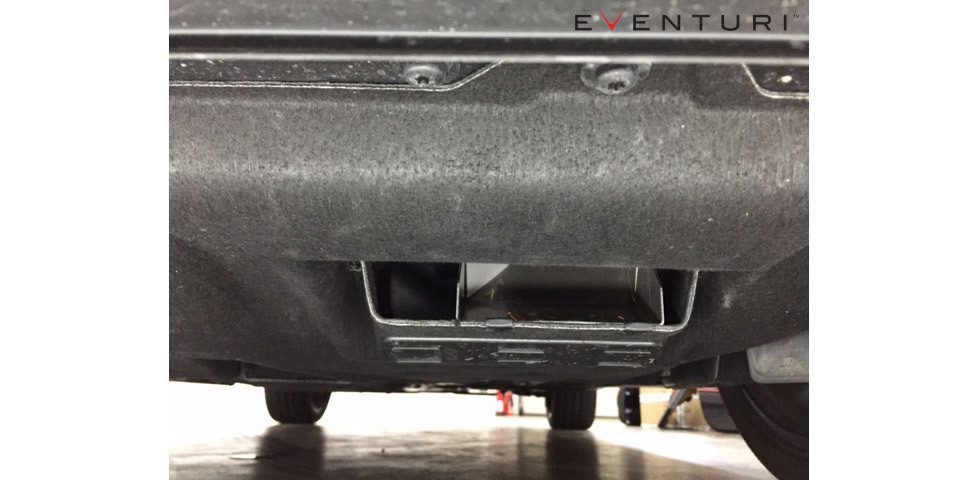 The Mk3 Focus RS Eventuri obtained for the dyno test only had about 400 miles on it but made consistent power in stock form – albeit a little under the quoted power figures. However,  they are more concerned with the change in power so as long as it makes consistent power then Eventuri can take that as a good comparison. Dyno figures always vary between different types of dyno, even tyres and strapping methods can affect the figures so the important value is the delta rather than the figure itself.
They conducted the testing between standard and the intake on the same day – without taking the car off the dyno so that we kept variables to a minimum.
As you can see, Eventuri made a peak gain of 10hp and across a decent rpm range with some points in the mid-rpm range showing 15hp and 15 Ftlb gains. It is important to stress that their design relies on decent airflow into the scoop to feed the filter – which is what you would get on the road. This is more difficult to replicate on a dyno as airflow is provided by a fan so you don't get the same saturation. Therefore – although they got a healthy 10-15hp, on the road it will be better.
More updates to follow once Eventuri go into production.