For many owners the exhaust system is one of the first upgrades for their Mk3 Focus RS. The standard car comes armed with a twin exit slash cut exhaust similar to the Mark 2 variant with a catalytic convertor in the downpipe. The exhaust tone is pretty subtle as standard but still with a deep enough tone that says 'I am a performance car'. The standard exhaust systems features an electronic valve which controls the noise output which is altered depending on what driving mode the driver has selected.
| | | | | |
| --- | --- | --- | --- | --- |
| Driving Mode | Normal | Sport | Track | Drift |
| Exhaust Valve Mode | Normal | Sport | Sport | Sport |
When the exhaust is in sports mode the valve opens up and creates more noise while giving out the character pops and crackles upon changing gear and at higher revs.
Standard Exhaust in Sports Mode
Aftermarket Options
Many manufactuers were quick to release cat back system followed closely by their downpipes in decat and sports cat versions. The standard RS exhaust is designed to be as straight as possible but the aftermarket brands have less restrictions and look to produce more performance and a better soundtrack. Aftermarket options are likely to give you around 10-15bhp increase in power but married together with induction kit and remap can see near if not over 400bhp.
With the UK market being one of the first to receive deliveries from Ford, UK manufacturers such as Cobra, Scorpion and Milltek were among the first to release their cat back systems. With the standard exhaust system using the electronic valve meant an additional challenge for these manufacturers as without this mechanism plugged in the driving modes stops working, the answer is to either utilise the OE valve or use a system where the valve wiring is plugged into the system tricking the ECU there is still a valve present and therefore making the driving modes fully functional. This means when coming to choose a system owners have a choice of buying a it with the valve or removing the valve.
Cobra
Cobra Sport is a family run business based in Sheffield yet sell their exhausts all over the world. With over 40 years of experience Cobra demonstrate the highest quality of manufacturing, each system is hand-made and in-house expertise ensures that all Cobra Sport Exhausts are engineered the highest tolerances ensuring a perfect first-time fit, great performance and a truly pitch perfect exhaust sound.
Cobra have at the present time 9 valved systems, 9 valveless systems and 2 front pipes to choose from. Within the 18 systems you also have a choice of resonated (quiet), non resonated (loud) or venom (very loud), plus you have the choice of two downpipes either no cat or road legal hi-flow sports cat.
Cobra Mk3 Focus RS Exhaust Systems
Cobra Valved Cat Back Systems
Cobra Valveless Cat Back Systems
Cobra Sport Valved Full Systems
Cobra Sport Valveless Full Systems
Cobra Downpipes
Scorpion
Another fast mover on the RS Mk3 scene was Scorpion. Scorpion Exhausts having been producing exhausts for Fast Fords since the 1990's so we always knew they would be one of the first to market. Each of their exhaust systems in hand-made in Derbyshire.
Scorpion have produced a 76mm/3in system that includes a centre section with a dynamic pyramid flat to ensure maximum ground clearance similar to the OE system. It also features a smaller rear silencer to maximise the power gains for a standard spec right up to 400+ cars. On the Scorpion system the electronic valve works the same as standard via the drive mode select button inside the car. Finishing of the Scorpion system is the classic twin 4.5in daytona tailpipes.
Scorpion Cat Back Exhausts
Scorpion Downpipes
Milltek Sport
Milltek have over 33 years on exhaust development and expertise behind them and that's why many Mk2 RS owners made Milltek their choice of exhaust when upgrading. All Milltek exhausts are designed, developed and manufactured in-house in the UK and exported to almost 90 countries worldwide. Milltek were lucky enough to receive one of the first Mk3 RS's in the country and wasted no time getting it sent off to their development centre.
Milltek have up until now released their cat back systems with a choice of tailpipe finishes and also large bore decat and sports cat downpipes.
Res & Non-Res Exhaust Differences
To give owners a choice of noise levels Milltek produce two versions of their cat backs; resonated (quieter) or non-resonated (louder) system. A resonator is a chamber in the exhaust system that contains a specific volume of air which is designed to cancel out certain frequencies of sound (made by the engine) – making the exhaust noise quieter. Therefore, a non-resonated exhaust system will give you extra performance and a louder exhaust note and the resonated system will give you extra performance without increasing the exhaust noise much.
Tailpipe Options
Milltek give one of the best choices of tailpipe with 4 unique finishes.
Polished GT-115 Trims (No surcharge)

Cerakote GT-115 Trims (+£120 surcharge)


Titanium GT-115 Trims

(

+

£220 surcharge)

Burnt Titanium GT-115 Trims (+£270 surcharge)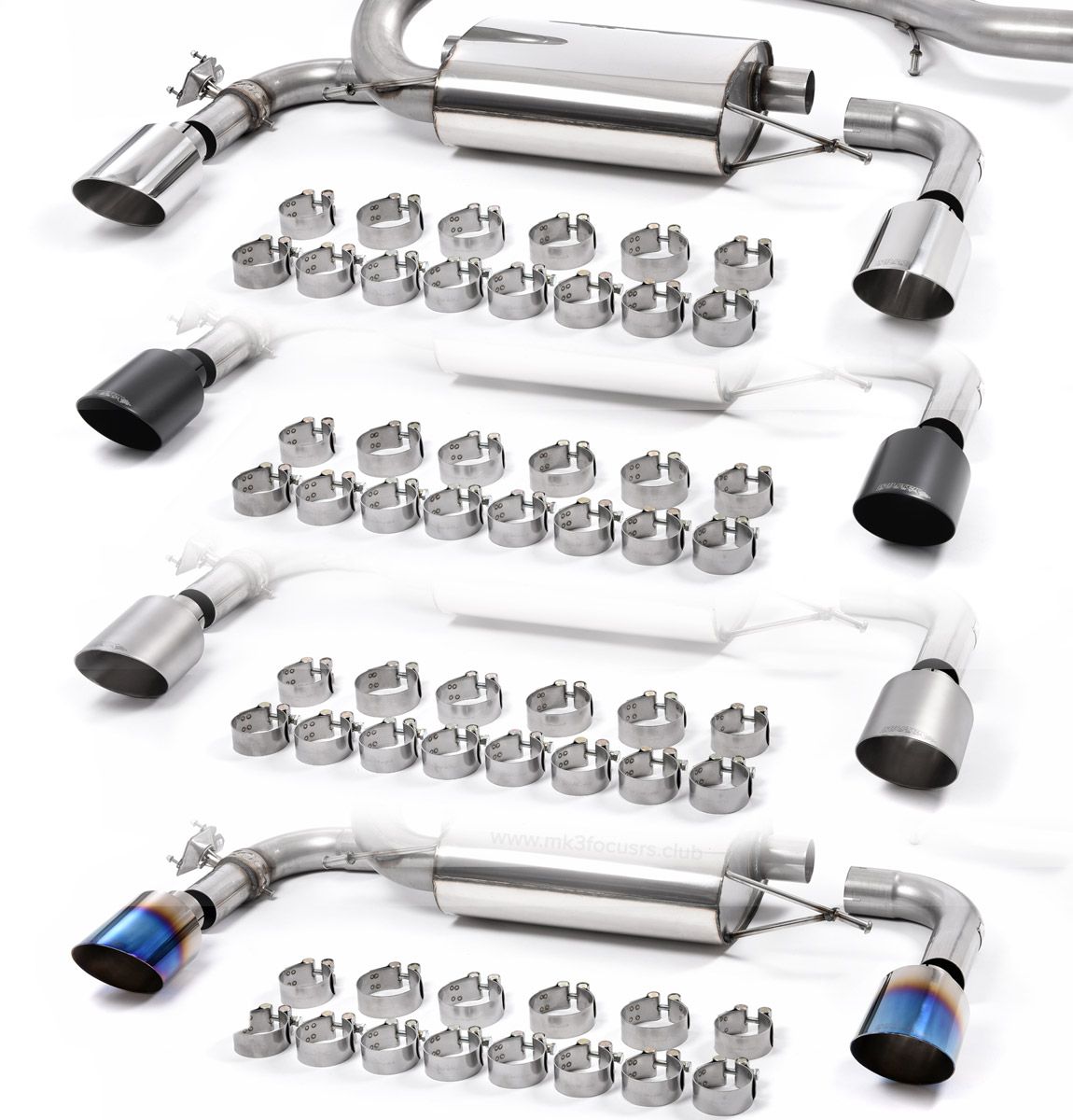 Milltek Cat Back Exhausts
Milltek Downpipes
Mountune
As part of their Stage 3 release Mountune brought their exhaust system to coincide with their induction kit and remap upgrades. Mountune opted for an axle back system which is constructed from ultra thin-wall stainless steel that has yielded a typical weight-saving of 28% over standard which is just over 3kg! Not only does the Mountune axle back system give a substantial weight saving but their highly efficient resonator internals improve engine performance and reduce back pressure. Opting for an aftermarket exhaust usually means you want to increase the cars soundtrack and the Mountune system definitely delivers there with deeper throatier noise without being too obtrusive.
Mountune Exhaust Systems
Mountune Axle Back Exhaust – RRP £950
Mountune Downpipes
Coming soon
Other Options
It is not only the above options available to Mk3 RS owners, there are endless amounts of aftermarket exhaust options already on the market so no matter what style, noise, material, budget you will be able to find a system that fits your requirements. Other popular choices so far worth mentioning are the KMS Motorsport Tornado Catback Exhaust aswell as the Riverside Racing exhaust system which is hand-made in the UK to a very high standard by Russel Fellows of M.R. Fabrications to produce a fantastic aggressive note without the intrusiveness and drone of lower end systems.
Outhwith the UK other manufacturers are also producing some fantastic systems; DMB Fabrications and 10Fintec in Canada (pictured below). See more Mk3 Focus RS exhaust options in our upgrades directory.
Time to Upgrade your exhaust?
If you are looking to upgrade your exhaust system in your Focus RS be sure to check out our upgrades directory which showcases what options there are from brands around the world and remember with alot of these systems the manufacturers are giving members great discounts!
Mk3 Focus RS Cat Back Exhausts >