ROUSH Performance are well known to many in the Ford scene mostly for their outstanding work on the Mustang variant, however with the Focus RS Mk3 being the car of the moment ROUSH fancied the challenge to build a true street/race car with 500bhp in time for SEMA in November this year. Let's see if they managed to pull it off…
The Focus RS Build
Using the 2.3L EcoBoost® Short Block (Ford Performance Part #M6009-23EB), ROUSH immediately set about tackling the heat issue as even with its gaping cooling ducts the car can suffer from heat soak so an enhanced ROUSH Cooling System was installed. Then it was on to the exhaust system where a ROUSH Active Exhaust was fitted flowing through to black ceramic-coated tips, and custom ROUSH calibration completed the performance enhancements to give over 500 horsepower at the crankshaft.
Due to the car being built for the circuit a track-focused suspension with chosen, the ROUSH TrakPak 3-Way Adjustable Suspension System with Camber Plates by KW Suspensions to be exact. Continental ExtremeContact Sport tires 255/35/R19 (available to the public on February 1, 2017) were then wrapped around the Lightweight ROUSH TrakPak 19"x9" Forged Wheels by Weld.
On to the exterior now where ROUSH wanted function over form so nothing too in your face here but very tasteful and performance focused additions; a Front Splitter, Rear Wing, Side Splitters, and Rear Diffuser completed the ROUSH TrakPak Body Kit. ROUSH Hood Heat Extractors not only give the RS a more aggressive appearance but keep everything cooler under the hood. Ambient Grille Lighting was also added, along with the iconic ROUSH Windshield Banner. The custom RS has been wrapped in XPEL Stealth Paint Protectant Film to stop those annoying stone chips and features custom graphic stripes, custom-painted side rearview mirror caps, then completed with a front tow hook but hopefully there will be no trips to the kitty litter for this car!
Inside, ROUSH has added a black ROUSH Shifter Ball and ROUSH Performance Pedals. The final result is a ROUSH Focus RS that has been truly "race-injected" for track-ready performance.
Build Video
Would you like to see more on how the final result was achieved? Take a look at this behind the scenes video into the ROUSH Focus RS build for SEMA 2016.
ROUSH Performance Focus RS Pictured at SEMA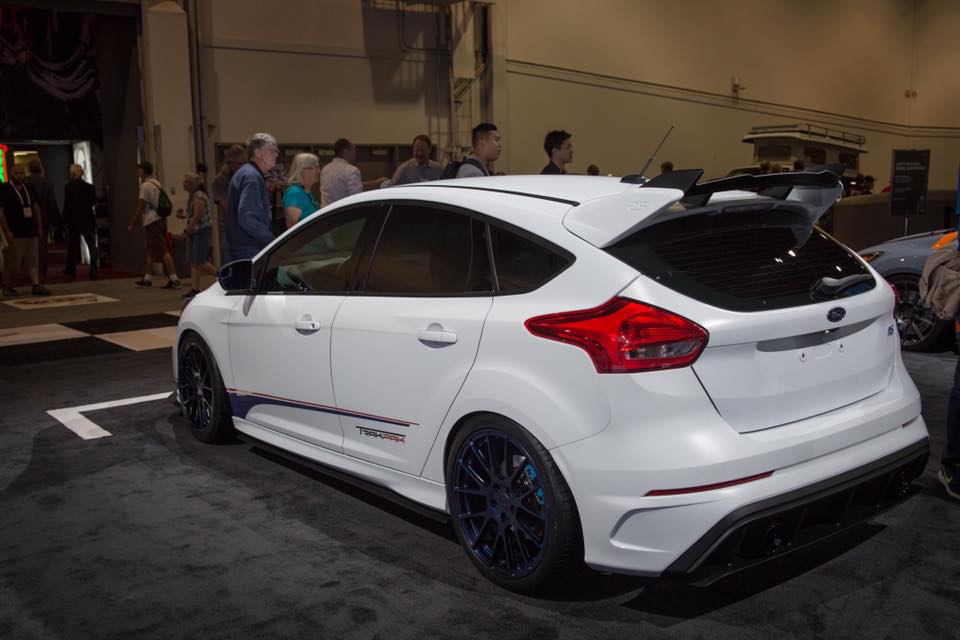 ROUSH Focus RS Parts
The bad news is that at the moment ROUSH are not producing any upgrade parts for the RS but may do so in the future. If we hear anything we will be sure to let you know immediately!